FIRMLY IN CONTROL OF YOUR SERVICE ORGANIZATION.
WHENEVER YOU WANT. WHEREVER YOU ARE.
Introducing Service Hub.
The heart of your organization.
The level of service you provide is the single most important factor in today's business. It determines whether customers will commit to a long term relationship and be a differentiating factor from the competition. That's why we're proud to introduce a revolutionary Service Management suite that enables you to work more efficiently and at reduced costs, whenever you want, wherever you are. It's called Service Hub.
Service Hub gives you enhanced control over your daily tasks and empowers you to maintain an excellent service level for your organization, while providing extreme ease of use and a flexible, responsive design in a secure environment.
Available now.
Sign up for more info.





BENEFITS.
DISCOVER THE NEW STANDARD IN SERVICE MANAGEMENT.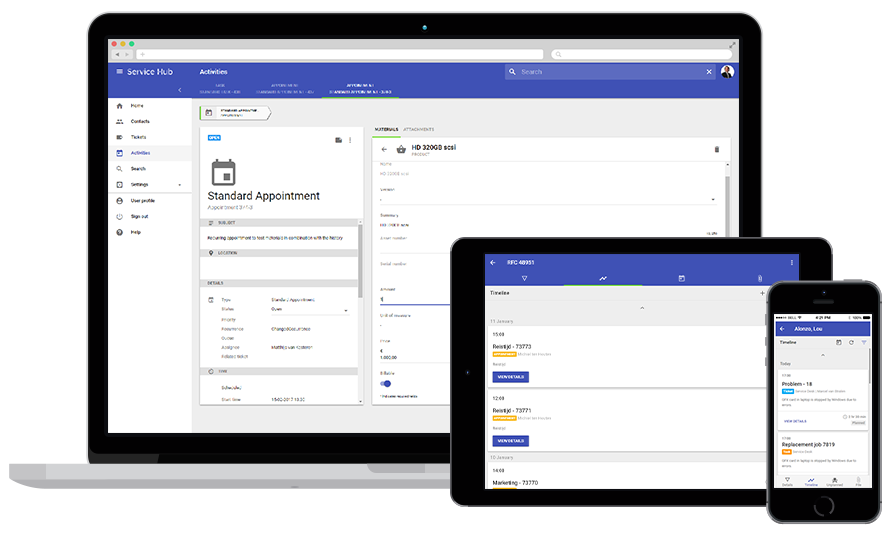 Adapts to your preferences.
Runs natively on laptops, tablets & phones.
It doesn't matter on which device you prefer to work. Service Hub is a fully cloud based solution. Just log in to your favorite browser on your favorite device and start getting work done.
There are no lenghty installs, no mandatory updates and no additional downloads. Refreshing, isn't it?
Adjustable and personal.
Choose how you work.
Business applications like Service Hub need to be adjustable to meet your organisation's processes, without the hassle of a customized environment. Therefore, Service Hub is quickly and easily configurable as per your needs.
Plus, it can be used in tandem with Clientele ITSM, because both systems share the same database. That means you'll always get to chose the solution that's best suited for the tasks at hand.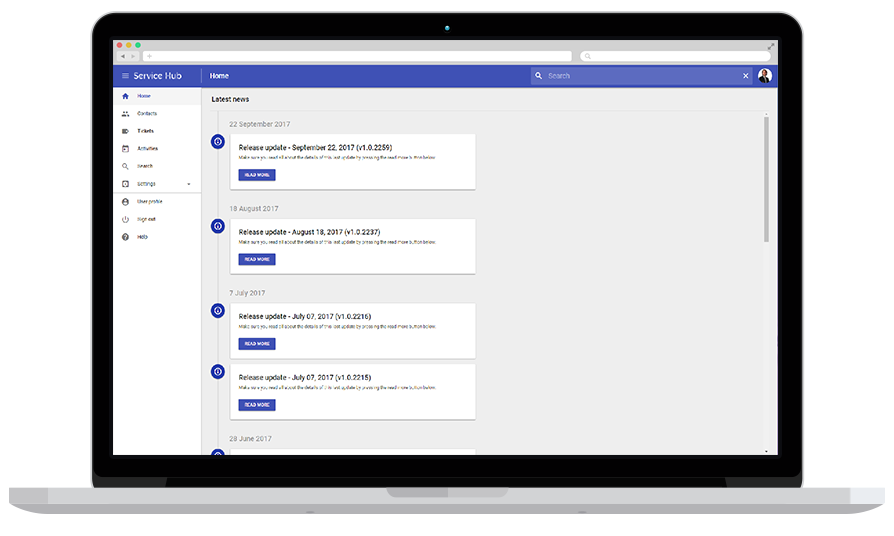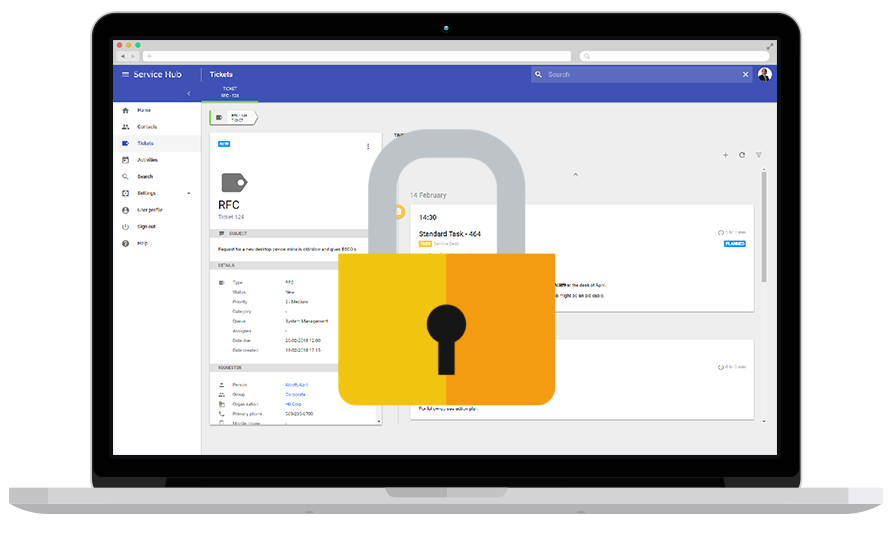 The design of Service Hub.
Easy on the eye. Tough on security.
View tickets with ease. Upload attachment in a moment's notice. The simple, intuïtive user interface is based upon Google's Material Design-language. Which means you'll be instantly familiar with its controls, so you'll get more done in less time.
But when it comes to security, we didn't cut any corners. Service Hub is built on a strong, robust foundation and designed with data security in mind. What's more, Mproof, the company behind Service Hub, is completely ISO 27001 certified.
Third-party integrations.
Codeless & effortless.
Thanks to its extensibilty, integration options and built-in support for services like Zapier, Service Hub is able to connect to a wide array of platforms. Connect with your favorite email client, storage solution, CRM software or financial platform. Exchange data on the fly. The possibilities are literally limitless.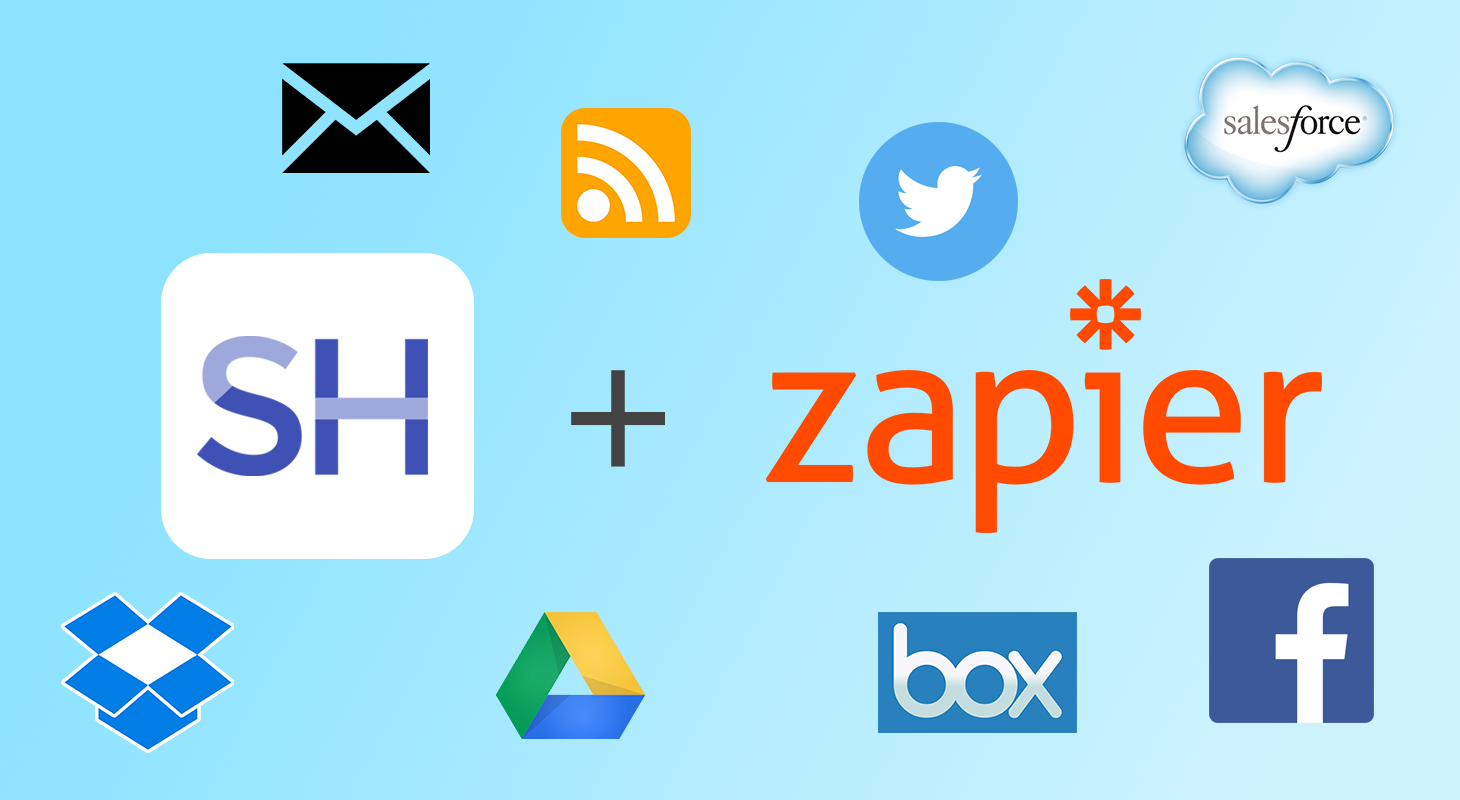 THE PERFECT ADDITION TO CLIENTELE ITSM.
TWO PLATFORMS WITH SUPPORT FOR:
PRICING.
THERE'S ALWAYS A PLAN THAT SUITS YOUR NEEDS.
€59,-/maand

€79,-/maand

Complete Service Management-suite

Self Service Portal

Reports & Dashboards

Import Module
€69,-/maand

€89,-/maand

Complete Service Management-suite

Self Service Portal

Reports & Dashboards

Import Module

Business Intelligence & Analytics
START OPTIMIZING YOUR SERVICE ORGANIZATION.
SERVICE HUB IS AVAILABLE NOW.
The wait is over.
Get Service Hub free of charge.
Service Hub is now available free of charge to all Mproof customers running Clientele ITSM as Software as a Service. The two platforms work together in harmony to help you achieve the challenges your service organization is facing.
Address:
Hofcampweg 71-7
2241 KE Wassenaar
The Netherlands
Available now.
Sign up for more info.
MADE WITH ♥ IN THE NETHERLANDS.
SERVICE HUB IS BEING BUILT BY THE PEOPLE BEHIND MPROOF.